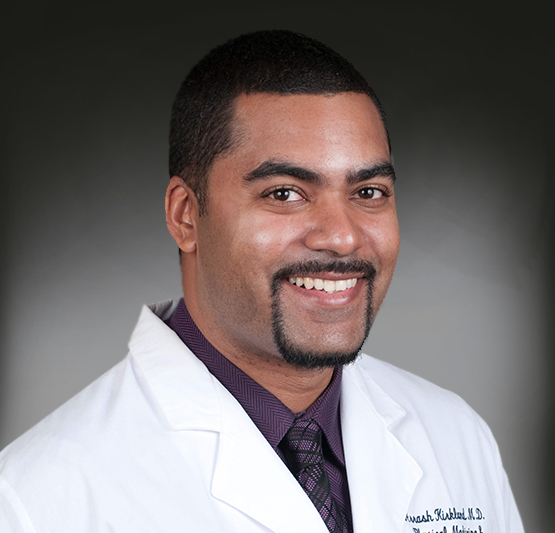 Interventional Spine and Pain Management Physician
Arrash Kirkland, MD is board certified at Texas Partners in Pain Management. Dr. Arrash Kirkland, M.D., is a fellowship-trained interventional spine and pain management physician. With extensive experience in sports medicine, rehabilitation and both interventional and non-interventional pain care techniques, Dr. Kirkland's goal is to provide functional restoration through innovative, comprehensive and personalized treatments for all patients.
As a teenager, I volunteered at the hospital where my mom worked as a nurse. By working in patient transport, I had the opportunity to interact with many diverse people. I was fascinated by their stories and always wondered what makes each person the way they are. As I pursued my education, medicine was a natural fit that allowed me to provide functional restoration through innovative, personalized pain management treatment.
Dr. Kirkland graduated from medical school at the University of Cincinnati's College of Medicine in Cincinnati, Ohio before completing his residency in physical medicine and rehabilitation at the University of Rochester Medical Center in Rochester, New York. Through his time there, he served as Chief Resident and gained experience as a sports medicine physician while treating University of Rochester and SUNY Brockport student athletes suffering from injuries. Dr. Kirkland then completed a fellowship in interventional spine and pain management at Michigan State University in Flint, Michigan and has been actively practicing since.
His desire to improve patients' functional ability, along with his belief in comprehensive, customized treatments centered around the individual, are a testament to Dr. Kirkland's compassionate approach to patient care. He is Board-certified, a Diplomate of the American Board of Physical Medicine and Rehabilitation and has most recently been bestowed the prestigious Vitals.com Patients' Choice Award and Compassionate Doctor Recognition.
Dr. Kirkland enjoys basketball, golf, reading, traveling and spending time with his wife in his free time.